Meet Our team of Professionals at Natural Medicine Center of Lakeland
Catherine Onuoha
PhD, RPh, BCPP, CPh
Professional Thermographer and consultant pharmacist Dr. Catherine Onuoha was classically trained to appreciate Western Medical techniques at the Medical College of Virginia (MCV).  The PhD she earned at MCV is a dual discipline doctorate in Pharmacology and Toxicology.  After receiving her PhD, Dr. Onuoha pursued pursued a research position in the field of neuroscience at the Walter Reed Army Institute for Research (WRAIR).
Once her research at WRAIR was completed, Dr. Catherine found work in academia to be rewarding. Dr. Catherine held professorial posts for more than a decade, teaching within public and private institutions. Her teaching charge was to educate fledgling professionals across many medical specialties (Pharmacists, Nurses, Doctor of Orthopedics, Anesthetists, and Physician Assistants).
Throughout her academic years, Dr. Catherine dedicated some time each week to consultations with a patient base either within hospital clinics or in outpatient settings. Patient care continues to hold priority in Dr. Catherine's work week. She is passionate about providing her patients compassionate, need-based medical care from a functional and natural healing perspective.
Although Dr. Catherine portends professorial work is meaningful, in fact, she loved it–a wee voice of intuition began working within her during 2014. To honor and trust this intuition, she began searching clinic work environments and was resolute in her quest to devote all of her time to patient care.
In January of 2015, Dr. Catherine joined Carol Chandler D.O.M. at the Natural Medicine Center of Lakeland. The two formed an easy collaboration since they share a similar vision of homeopathic healthcare in accordance with Natural and Alternative Healthcare methods.
Carol Chandler, D.O.M. and Dr. Catherine collaboratively have continued the tradition of utilizing Thermography as a powerful discovery tool to help clients far and near our community to achieve optimal health. Dr. Catherine is professionally trained to use Thermography as a unique tool to transduce physiologic changes. Dr. Catherine secondarily completed a rigorous training regimen under Dr. Carol Chandler a Doctor of Oriental Medicine and Master Herbalist.
Since April of 2015 Dr. Catherine has assumed responsibility for running the Natural Medicine Center of Lakeland and seeing patients here at this clinic.  While Dr. Catherine sees patients here at NMC and runs the day to day operations, she is assisted by her physician supervisor Doctor Justin Strittmatter who oversees medication/treatment decisions.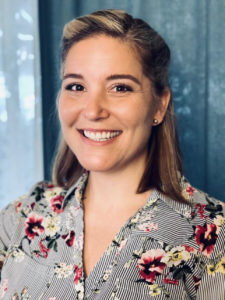 Kaleah Simmons
Nurse Practitioner
Kaleah Simmons is a Nurse practitioner specializing in Family Medicine, since 2019.  Prior to joining Holistic Care and Recovery (HCR), the practice nestled within the Natural Medicine Center, Kaleah performed fit for duty exams for police officers and firefighters in California, Connecticut, Florida, Ohio, Kansas, Montana, and Texas. The owner of Lakeland's Natural Medicine Center decided in coordination with a team of HCR Doctors to recruit Kaleah Simmons as a collaborating HCR practitioner. Kaleah is currently working under the tutelage of Dr Catherine Onuoha. Together, Doctor Catherine and Kaleah will fashion all patient treatment protocols toward *Natural Medicine*.  Nurse Practitioner Simmons earned her master's degree from Walden University with significant nursing history in intensive care, emergency care, leadership, and quality management. Moreover, National Board Certification was acquired for Kaleah, through the American Association of Nurse Practitioners.
Since the HCR mission focuses on Functional Medicine and Integrative Health, Kaleah will see patients for autoimmune disorders, hormonal imbalances, metabolic disorders, and cancers. Kaleah will see patients of all ages—with well- child care as a specialty niche.  Kaleah approaches her duties at HCR within Lakeland's Natural Medicine Center with 'enthusiasm and zeal'.  Mrs. Simmons is passionate about teaching and takes her time ensuring to instill confidence in an individuated treatment plan. She has a keen personal interest in bringing laughter and vigor to her everyday work.
Nam Jeon, D.O.M.
Acupuncture Physician
Nam graduated from Midwest College of Oriental Medicine with Master's degree. He is Korean and studied in China and has been practicing acupuncture and Chinese herbal medicine for twenty years, in the Midwest and Alaska before moving to Florida.
Nam is licensed in the State of Florida and certified by NCCAOM (the National Certification Commission of Acupuncture and Oriental Medicine).
He has been treating patients with complaints ranging from musculoskeletal pain (low back pain, sciatica, tennis elbow, bursitis, arthritis), neurological disorders (stress, anxiety, depression, insomnia, headaches, migraines), and addiction (alcohol, drug, nicotine). He also teaches stress management and mindful meditation.
Traditional Chinese Medicine (TCM)
Traditional Chinese Medicine can be utilized as an alternative for patients with chronic conditions, who do not respond to western methods, or cannot use drug therapies due to sensitivities. It is particularly beneficial to those patients with pain, who cannot undergo surgery or anesthesia.
 The holistic approach of the Traditional Chinese Medicine is comprehensive, and assesses the individual patient as a "whole person", instead of treating symptoms. The goal is to assess all contributing issues, that may affect the patient and their state of wellness, and to create a treatment plan to bring the mind, the body, and the spirit into harmony and balance once again.

Dr. Nam has also authored a number of books on acupuncture and Eastern medicine:
Darla Willmore
B.A., Clinical Thermographer
Darla earned a Bachelor's degree from Saint Xavier University and spent 7 years in Sales and Business Marketing. Darla joined the Natural Medicine Center as a Clinical Thermographer in April 2015. Darla performs most of the thermal scans done at MyLife Preventive Imaging and The Natural Medicine Center. She is also trained in natural living and herbal medicine. Darla is the Case Manager at MyLife Preventive Imaging and handles the Marketing Department at The Natural Medicine Center. Darla is currently working toward a holistic nutrition certification. She hopes to provide cutting edge and ever-growing nutritional services and advice for the company for years to come.